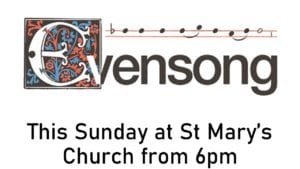 Our monthly Evensong Service will be held this Sunday at 6pm. Come along and sing hymns of worship to our Creator.
---
ALPHA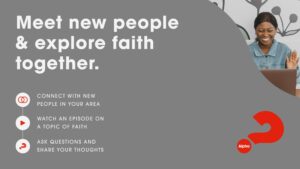 We are running Alpha on Thursday evenings, starting from Thursday 31 August, 7pm in Te Korōria. Come along – bring a friend – bring many friends! The Alpha Introduction dinner on 31 August is a great opportunity to try out Alpha and get a taster of what it's like. There's no obligation to continue if you decide it's not for you.
Click here to find out more!
---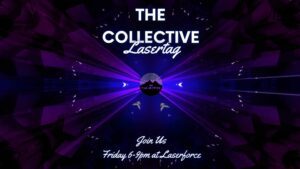 Coming Friday we will go and play Lastertag @laserforcewellington. We will not have dinner together, but laserforce has the option for you to buy something there. We will meet at Laserforce in Wellington at 6PM or at 5:15 @tekororiaka to go down together with the Bus. The Price will be 15$p.p which you can transfer to the Karori Anglican Churches account with the reference Youth.
We are looking forward to seeing you on Friday
---
Manna Meals
Thank you to everyone who have participated in preparing frozen meals. They are much appreciated and a great service to our community.
---
Parish Dinner
PARISH DINNER – SATURDAY, 19 AUGUST
Theme: Movies – Larger than Life!
Our Annual Parish Dinner is back. This year the parish dinner will be held on Saturday, 19 August at 5.30pm and the theme is Movies – Larger than Life. The parish dinner is always a sell out and so much fun!  Do join us for a fantastic night of festivities. Come dressed larger than life; as outlandish and loud and wacky as you can. Imagine if the characters of Star Wars were dressing up for the posh dinner on the last night of The Titanic and then try to out'do' them. Imagine a "The Walking Dead" and "Barbie" mashup!
If you are interested in hosting a table or attending the dinner, then either email the office (office@karorianglican.org.nz) or put your name down on the clipboard which will be passed around at our service or be at the welcome table in the church foyer

We will need the following volunteers to help organise this night out:
Setting up the hall with tables and chairs
Decorations
Running the Kid's programme
setting up and serving coffee and tea after dinner
Clearing up and putting things away after the event
Please email Andrew if you are able to volunteer (andrew@karorianglican.org.nz)
---
ANGLICAN MOVEMENT TRAINING DAY
Training Days are for everyone, and it's our opportunity to share learning and fellowship as a movement whānau.
Bishop Justin will speak at the Plenary Session in Wellington and Palmerston North. This is our first time hearing from Bishop Justin after his Sabbatical. We look forward to hearing what he has to say. More information including details of workshops can be found here.
HELP NEEDED FOR TRAINING DAY
Archdeacon Gendy Thomson have written to ask for help in running the next training day in Karori. If you are able to, please email Jan at  events@anglicanmovement.nz
Hi parishes,
we are in need of 'more hands on deck' for our Karori training day, and putting round an ask for help – if you could please advertise this in your parishes, and also verbally invite people both to attend and to help that'd be wonderful!
Our training day is for everyone, and has great workshops to help us grow as followers of Jesus.  We expect about 350ppl (could be more!) and rely on support of our whole church to help with the day to enable us to keep it at 'koha' cost.  You can find out more here https://anglicanmovement.nz/trainingday2023 and click on the button for Wellington
Areas of help that we are needing are:
Set up – Friday night – if you live in or near Karori and could give an an hour or so of your time after work on Friday that would be fantastic!
Set up – Saturday morning – arriving till 9.30 (when coffee/morning tea is available)
Parking wardens (helping people find parks on/off site) – Saturday morning, 8 to 9.45am
Pack down – Saturday afternoon, 3.30 – 5 (or whatever you can give in this time)
Welcomers – Saturday morning 
IT/AV support – for speakers who may need to use technology, but are not so technologically minded – Saturday, 9.30-10 and lunchtime
Helping in the serving team for lunch/morning tea (plating up and putting out food, replenishing as needed, cleaning up) – morning tea = from 8.30am; lunch from 11.30am
If you are able to help serve in any of these ways (and there is sure to be more!) please contact Jan on events@anglicanmovement.nz – we'd rather have more offers and the grace to say "thanks, we don't need you this time" then no offers!  Thanks so much!
Thanks  Gendy
Gendy Thomson
Archdeacon for Mission and Ministry
Anglican Movement
gendy@anglicanmovement.nz
027 250 9664
---
Transitioning to Parish Giving
From 1 April 2023 we have combined the results of Property and General Giving into one Parish Giving figure.
We need your continued financial support for the operation of the Parish, including Te Korōria.  If you were previously giving to Te Korōria (and have now completed your pledge) Thanks so much!  Please prayerfully consider continuing that level of support through donation to Karori Anglican.
If you need further information on how to give, a giving number or information on how to set up a bequest, please contact accounts@karorianglican.org.nz
---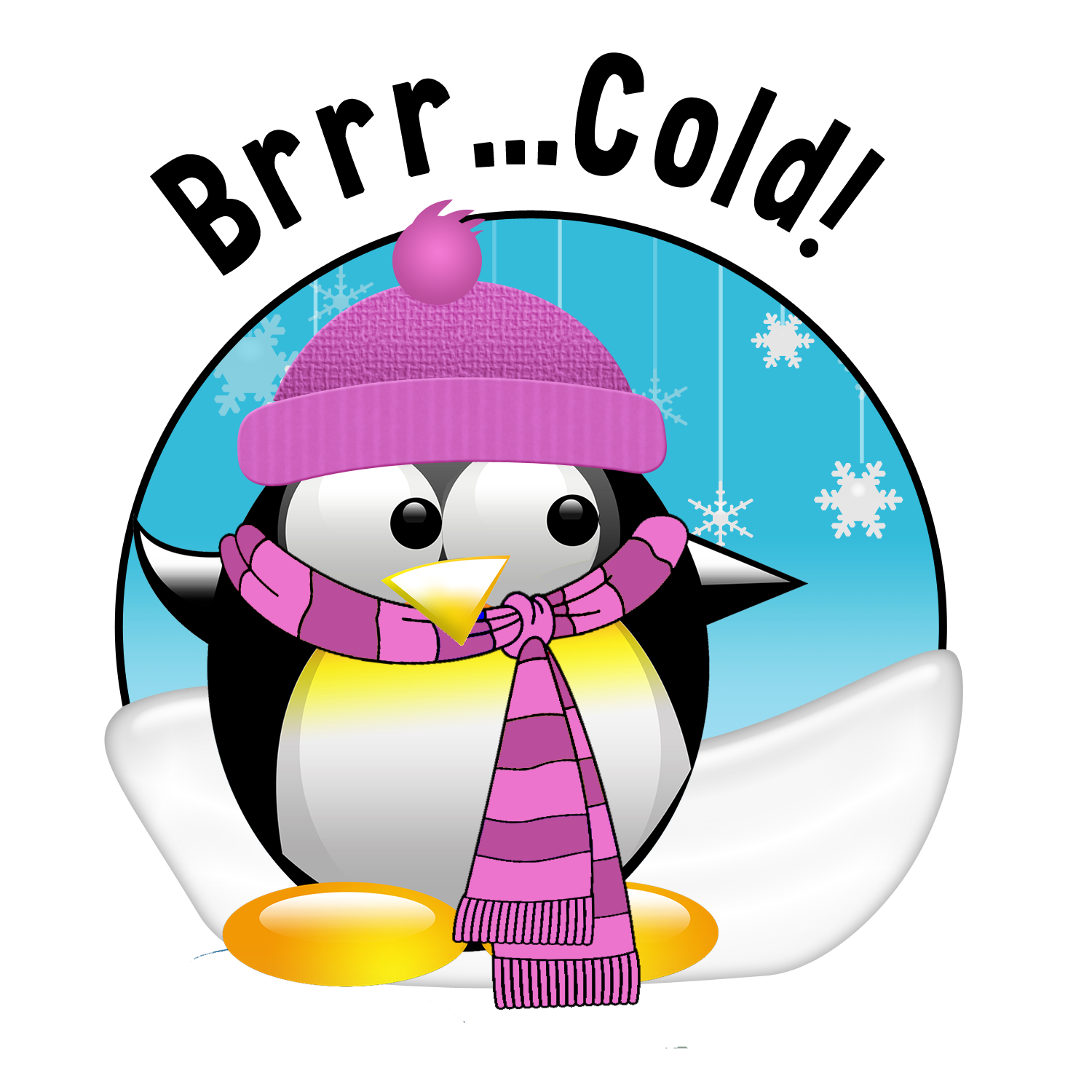 Heat Pumps in Church Foyer
Unfortunately, the heat pumps in the church foyer has stopped working. We have a replacement part that will be installed next week. In the meantime, make sure to keep warm with a hot drink.
---

Help Needed
We need more people to help prepare and serve morning tea for both our service and stay behind to cleanup too. If you can help, please let Andrew know.
---
MindHealth Counselling Available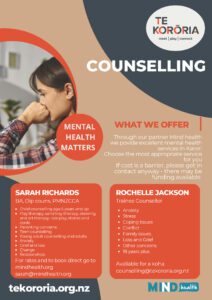 Please continue to promote our koha counselling with Rochelle to neighbors, friends and family. Just email counselling@tekororia.org.nz.
Rochelle has now seen several clients and has had lots of positive feedback.
Sarah Richards is also available, please email sarah@mindhealth.org to book.
Counselling times are available between 8.00am – 5.00pm Fridays with Rochelle or Wednesdays with Sarah.
Contact counselling@tekororia.org.nz to book a time:
The Vicarage 
With our move to Te Korōria, The Vicarage will become tenanted accommodation. In effect, it will be a private residence and should be treated as such.
If you are holding a key to The Vicarage, please return it to Andrew at the office or drop it into the letter box in the church foyer.
---
Sabbatical Leave
Please note that our Vicar, Rev Ian Cook will be away on sabbatical from Monday, 19th June for three months.  Sabbatical leave is an important time to reflect, learn and be renewed for priests.  Ian is visiting Australia and Europe during this period and will be taking part in learning communities, retreats and visiting various parishes in the United Kingdom.  In Ian's absence, we have a number of people temporarily taking on particular roles. If in doubt about who to talk to about anything, please contact the office in the first instance.
---
Infoodle 

We use the programme Infoodle to organise and manager church activities. If you need to use Infoodle and you already have an account, here is a gentle reminder that the website is : https://kac.infoodle.com/home
---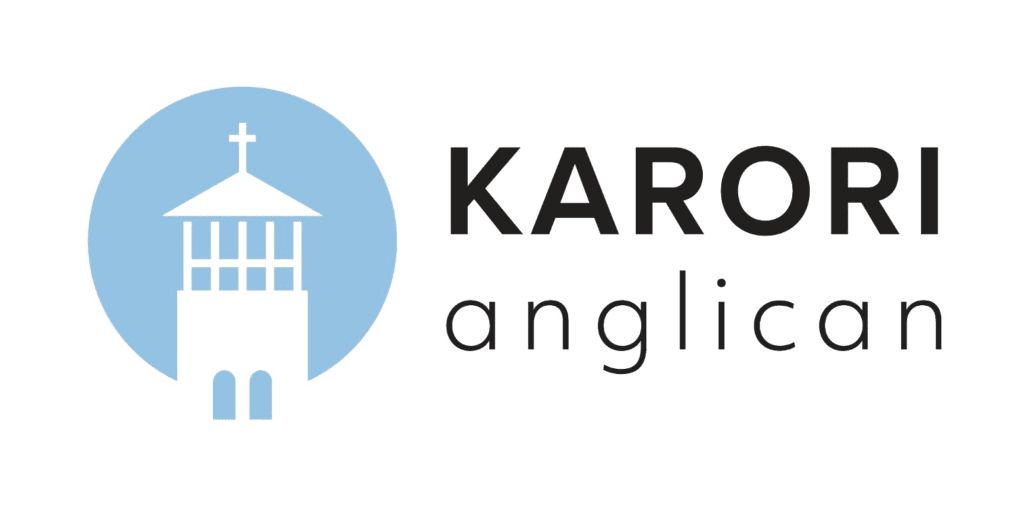 'You are the salt of the earth. But if the salt loses its saltiness, how can it be made salty again? It is no longer good for anything.' Matt 5:13