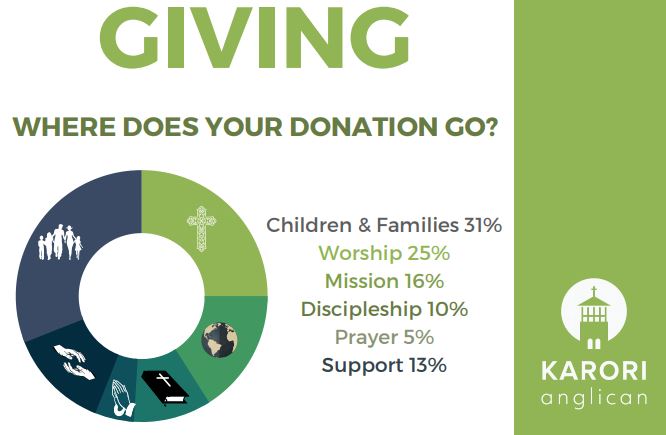 Giving your time and money to God's work not only blesses others but also greatly blesses you.
There are several ways to donate to Karori Anglican.  These are listed below.
Your gifts will be recorded and receipts issued at the end of the financial year for income tax purposes.  Any donations over $5 are tax deductible and IRD gives you an annual rebate of one third of your gift to the church.
As well as general giving, you can also donate towards our Te Korōria new build. To find out more, click this link
Online Banking
Online Banking is our preferred method.
It is simple to set up a one off, or a regular payment. If you want the money to go to a particular purpose make sure you
put that in the reference field. e.g. New Build.
Account Name: Karori Anglican
Bank Account details 02-0500-0019955-00
Envelopes
Cash may be placed in the envelope provided at church.  Please write your Giving Number (or name) on the front of the
envelope so the gift may be recorded.
Bequest
Making a gift in your will is a tangible way of thanking God for enriching your life and provides an enduring legacy that will
bless others. Please ask for a brochure and further information.
We are one of the five churches that run the Karori Foodbank providing emergency food parcels.  To support this essential service in our community please  click here to donate to Wellington City Mission.
Being part of our church whānau is not only about worshiping together on a Sunday, it is also about helping others
and giving back to our community.
Getting Involved enriches your life.
At Karori Anglican there are lots of opportunities.
Join a group/house church
Help in a service
Provide hospitality
Join the worship team or choir
Help with GodZone/Youth
Anything else you can think of!
Let us know how you would like to get involved today!
Email us here office@karorianglican.org.nz