Patricia Judith McRae Bird
It is with sorrow that we inform you of the passing of (Pat) Patricia Bird on Sunday, 30 April. She was a treasured member of our church family here at St Mary's and she will be missed.
Our deep condolences to Pat's family and friends.
Pat's service will be held at St Mary's Church Karori on Thursday May 11th 2023 at 10.00am.
Her obituary can be viewed at this link.
---
TE KORŌRIA UPDATE
 
Following prayer in the service about our Building Consent Amendments on drainage we have had some action, and are now expecting to have that matter resolved by the end of next week. God is good!  Please keep praying for smooth resolution of this issue.  We can't lock in an official "opening date" yet until we have sign off on the building consent amendment and also re-booked our asphalt delivery.   But it's close!
We have had lots of deliveries of this week with tables, chairs, etc arriving which is very exciting and really feels like we are close.  Our beautiful serving counter arrived this afternoon and is currently being constructed.  It required quite a team to lift inside!  The decking outside is 80% complete and we expect the lift covering and scaffolding to come down by Monday. The car parking area outside St Mary's is looking fabulous and ready for our concrete pour.  Our working bee this Saturday is focussed on finishing the Kōwhai room and beginning to set up furniture in our new spaces.    There are lots of little details that we sort out over the next couple of weeks so please keep Te Korōria in your prayers.
Here is a LINK to a summary update of the project – what has happened over the project and what the changes are to look out for.
---
Regional Training Day – Saturday. 6th May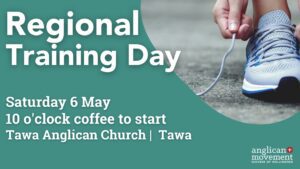 Our Diocese training day is happening soon in May. Training days support us as a movement with workshops from experienced ministry leaders to equip us in our ministry. They connect us to the movement by sharing stories and building whanau together. Click HERE for more information.
---
Sunday Lunch – 7 May 2023

Happy May Day to all!
And that means that this Sunday is the first of the month and with that, our usual lunch. Join us in the Old Vicarage and Playgarden from 12 onwards for lunch. We'll let the kids roam and/or play a game with them. Bring a plate to share lunch, yourselves and your friends.
See you Sunday,
Lucy
---
The Collective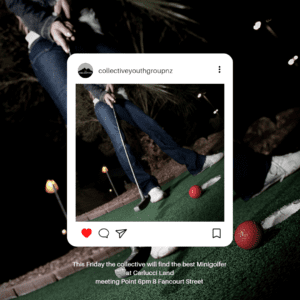 Coming Friday our Youth Group will head to Carlucci Land to play Mini Golf.
If you need Transportation let me know and be at the Church at 6pm. Otherwise the Meeting Point is 6:30pm at Carlucci Land. We wont have Dinner together. The price is 10$ ( if that causes problems let Ben know)
---
MindHealth Counselling Available

Please continue to promote our koha counselling with Rochelle to neighbors, friends and family. Just email counselling@tekororia.org.nz.
Rochelle has now seen several clients and has had lots of positive feedback.   Sarah Richards is also available, please email sarah@mindhealth.org to book.
Counselling times are available between 8.00am – 5.00pm Fridays with Rochelle or Wednesdays with Sarah.
Contact counselling@tekororia.org.nz to book a time: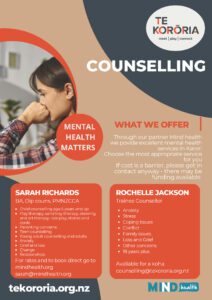 ---
SMASH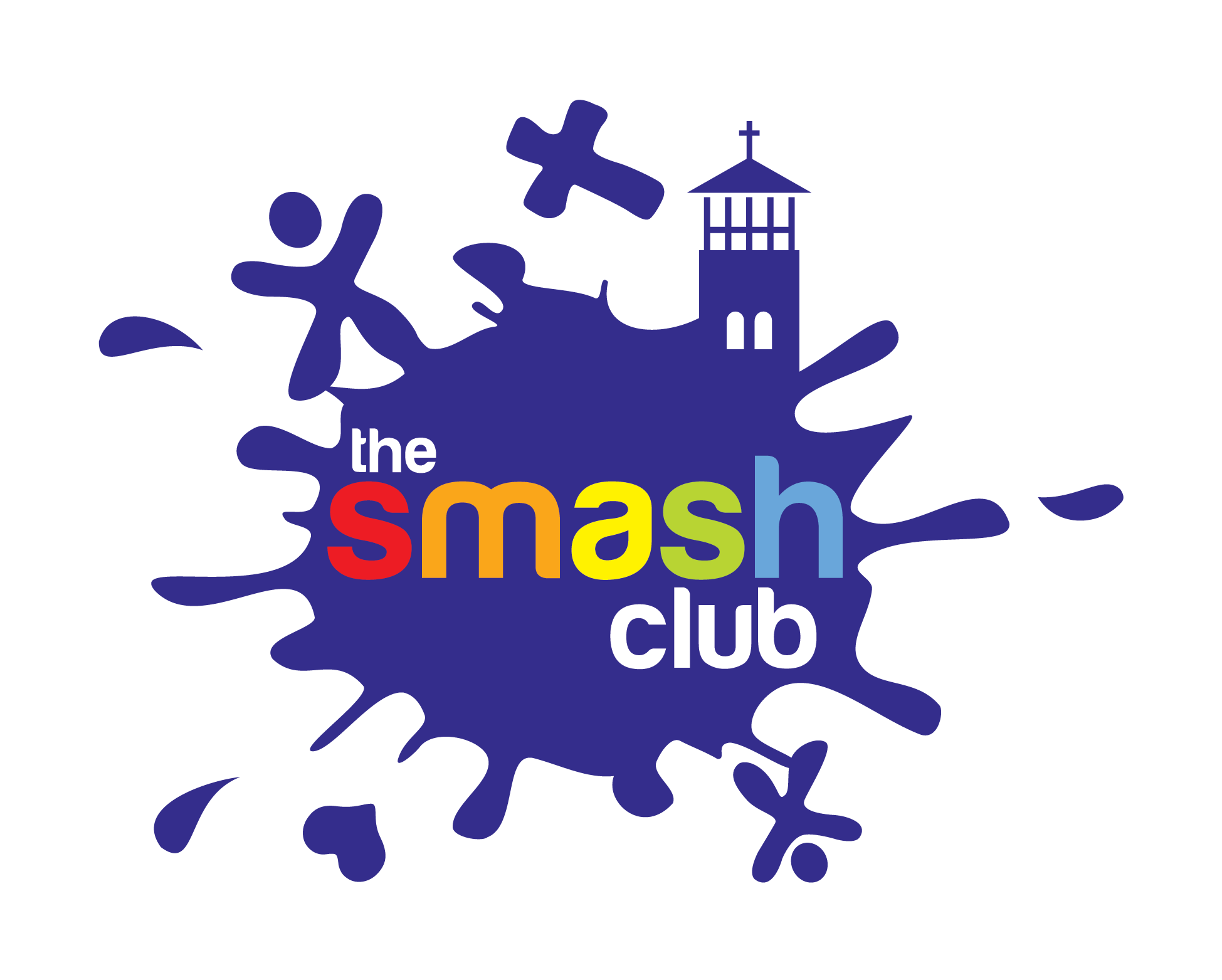 SMASH is looking for dedicated staff to work in a childcare service known for its excellence! 
If you are exploring a career with children, SMASH is a great place to work. We provide afterschool and holiday care for junior school children. Our young and committed staff have been described as fun to be around and our work culture a place to be where "it doesn't feel like you are really working."  We are looking for part-time and casual staff and our hours work well with university students and recent graduates looking to enter the work force. Training and support throughout your time with us.
Please contact Yvette at office@thesmashclub.org.nz for more information on both childcare needs and employment opportunities.
---
Early Childhood Education Centre

CHEF POSITION  AND REGISTERED TEACHER POSITION
Qualified ECE or primary teacher job opportunity – Full time or part time to work in our early childhood education centre. We pay our teachers along the pay parity line to level six but this can also be negotiated for the right person. St Mary's ECEC is a small boutique centre with a great team.
We are looking for a part-time cook for our early childhood education centre, in Karori. The hours are 8:30 – 1:30 Mon – Fri.
If you are interested or know someone who might be,  please contact  heather@stmaryschildcare.org.nz  both positions due to start ASAP.
---
Working Bee (6 May)

9-4 pm SATURDAY 6 MAY
This Saturday we need lots of hands!   We are painting the walls of the Kōwhai / Yellow room, moving furniture into some of the new spaces, constructing bookshelves in Te Korōria.  If you are able to help please do let Kate know so we can plan our working bee to make the most of the help available.  We do really appreciate your time.  Unfortunately it does clash with the Diocese Training Day, however there are other training days around the Diocese with similar workshops.  Email kate@arorianglican.org.nz to let us know if you can help.
---
Tear Fund – Celebration of Humanity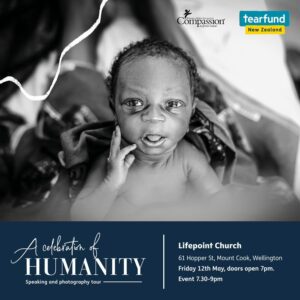 Tearfund is excited to be back on the road in May 2023 with A Celebration of Humanity speaking and photography tour in eight locations around the North Island.
From the bustle of the biggest refugee camps to the intimacy of a newborn's first kiss. From hospitals in remotest Africa to the gift of clean water. From disaster zones to the joy of childhood, these photos depict the moments, heartbreak, and kinship that touch us all. Let photographer and storyteller, Helen Manson, take you on a journey behind the lens and onto the front lines of some of our planet's most challenging places.
Be inspired and encouraged as Helen shares stories and images about some of the amazing work being done all over the globe, including child sponsorship. These powerful images celebrate our deepest emotional connections through A Celebration of Humanity.
Wellington Event
Date: Friday 12th May
Time: 7.30pm – 9pm (7pm – Doors open)
Venue: Lifepoint Church, 61 Hopper Street, Mount Cook, Wellington
There'll be delicious dessert and refreshments as well as a Q&A with Helen during her presentation.
Tickets are just $5. Reserve your ticket at this link.
---
Festival Singers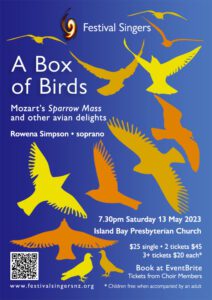 A Box of Birds: Mozart's Sparrow Mass & other avian delights
Featuring: Soprano • Rowena Simpson
7:30pm Saturday 13 May 2023
Island Bay Presbyterian Church
88 The Parade Island Bay
Come hear a soaring collection of music inspired by birds and their song – including Mozart's Sparrow Mass, Māori waiata, Renaissance madrigals, and lush contemporary works.
With the exquisite voice of soloist Rowena Simpson and a breath taking instrumental composition by Jonathan Berkahn, this is a concert not to be missed.
$25 single ticket • 2 tickets $45 ($22.50 each) • 3 or more tickets $20 each
(Children enter free when accompanied by an adult.)
Book online at Eventbrite. Visit https://festivalsingersnz.org/
Door sales available. Cash only – no EFTPOS
---
Quiz Night at St Anne's Northland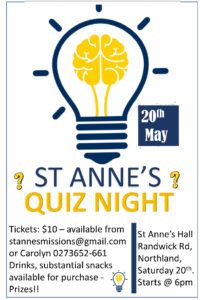 St Anne's Northland is holding a quiz night on Saturday, 20 May, from 5.45 (questions start around 6pm). Bring a team or join an existing table. Drinks and substantial snacks available for purchase. Proceeds for the vicarage roof which is in desperate need of replacing!  Tickets $10 – please book via stannesmissions@gmail.com or contact Carolyn Cordery, 027 365 2661.
---
Open Day at Samuel Marsden Collegiate School 
UPCOMING EVENTS
Open Day: Sunday 7 May, 2-4pm
Experience Primary: Wednesday 7 June, 8.30am – 3.15pm
Experience Year 7: Wednesday 14 June, 8.30am – 3.30pm
Experience Year 9: Wednesday 21 June, 8.30am – 3.30pm
For more information and to register, please visit https://www.marsden.school.nz/about/experience-marsden/
SCHOLARSHIPS
Applications for Year 6, 7 and 9 scholarships close on Friday 19 May. Exam date Saturday 27 May. Māori & Pasifika scholarships, Year 10-13 Excellence in Sports scholarships and senior school scholarship applications close on 25 August. Please apply online at https://www.marsden.school.nz/about/scholarships/

ENROLMENTS
Enrolments for entry in 2024 are open. Please apply online at https://www.marsden.school.nz/about/enrolments/
If you have any questions, or you'd like to arrange a personal tour, please contact Enrolment Registrar Leigh McCathie on 476 8707 or leigh.mccathie@marsden.school.nz
---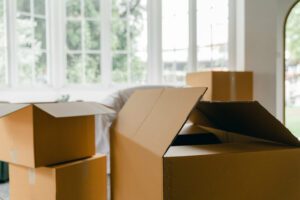 Packing Boxes Needed
A big thank you to everyone who have donated boxes. We are very grateful for them. If you still have some lying around, we will happily to take them off your hands to pack for the upcoming move into new offices in Te Karoria and Te Whare o Mere.
---
Tax Receipts
The tax receipts have been emailed out. If you have any queries about your receipts or if you would like a paper copy, please email Andrew at: office@karorianglican.org.nz.
---
Transitioning to Parish Giving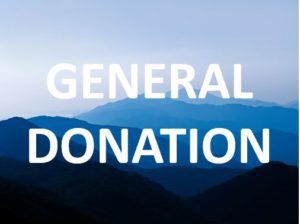 We are very grateful for all the donations towards Te Korōria and the property fund.  Going forward, money that is being donated regularly to Te Korōria will become part of our general giving donations, unless we hear from you that you specifically want this funding ringfenced towards Te Korōria. This enables Vestry and Finance committee to plan and manage our finances as effectively as possible, balancing our financial obligations (including the loan we have for completing Te Korōria) and our ministry needs (including salaries for Youth worker, Treasurer etc ) as we seek to increase the way we serve and strengthen our local community.
If you have increased your donations over the short term to contribute to Te Korōria, we ask you to prayerfully consider keeping up this level of overall giving to Karori Anglican to enable the ministries we believe God has called us all into to continue.
---
Infoodle is changing to two-factor authentication (2FA)

From the 1 April, access to Infoodle on your computer will require two factor authentication.  This is a mandatory change infoodle is bringing in internationally to ensure data security (there is no work around!).
You will need to set this up to use Infoodle and you will need to have a smart phone and a computer to do this.
Download the 'Google Authenticator App' from the app store on your phone.
Logon to Infoodle on your computer and select set up your 2 -step authentication – you will be prompted to do this.
Open the Google Authenticator App on your phone and scan the QR code that comes up on your computer screen
Then when you log in from now on you will need to put in the 6 digit code that comes up on your phone's authenticator app ( note this changes approx. every minute), as well as your password.
Note : you will need your smart phone and your computer every time you log in
The Infoodle App on your phone – If you use the infoodle app on your smart phone – make sure you are logged in before the 1 April.  Then you will not need to do two factor identification to access the information you can see in the app on your phone.
If you get stuck please contact the office, and we will help.  You can also email support@infoodle.com
---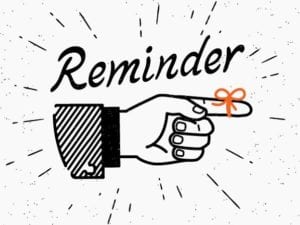 Rosters for March to June are online and on the noticeboard
Thank you to everyone who helps at our services, from welcoming to morning tea, many hands make light work!  Our rosters until the end of June are now available through infoodle, or you can see them posted at the notice board in the gathering area.
---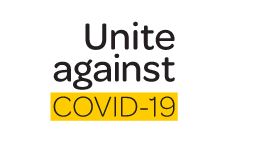 Please note that due to the current resurgence of COVID among our community we will be offering communion by one element only (wafers) for the next few weeks.
---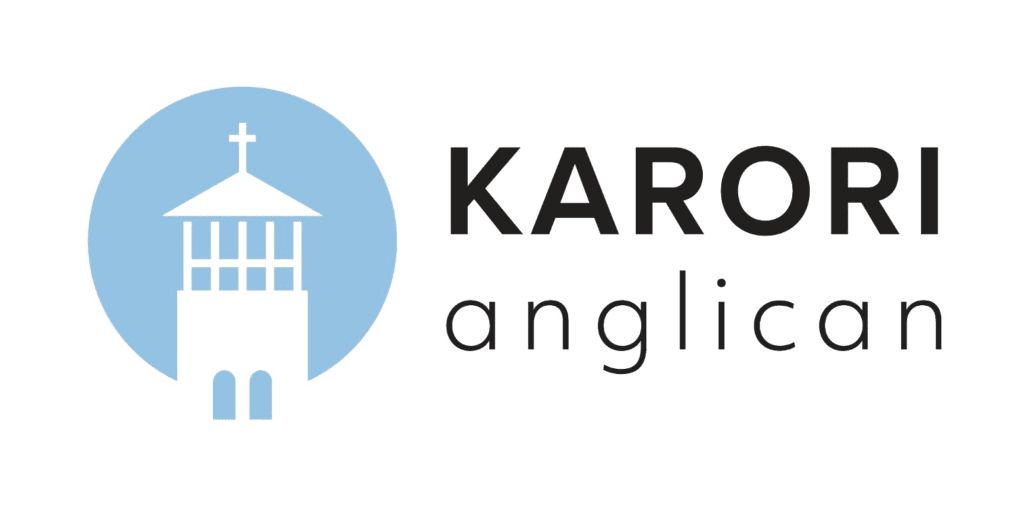 'You are the salt of the earth. But if the salt loses its saltiness, how can it be made salty again? It is no longer good for anything.' Matt 5:13