A NEW BUILD TO ENABLE US TO CONNECT AND SERVE
We have been caring for Whānau in Karori for over 150 years and are now excited to be embarking on a new venture to combat isolation, support whānau and foster wellbeing in our community.  We are bringing God's kingdom onto the main street of Karori. This outreach will enrich our everyday parish life, focus us on mission, support our discipling as we have space to engage easily with those we live among. Endless opportunities to live out generous hospitality.
The Recent Journey
In 2013 the Wellington City Council marked as earthquake-prone four of Karori Anglican's buildings and a plan of action of the future – the KAC Property Programme was put in place.
Fast Forward to 2019
A little over four years ago we had a parish-wide session and thought and dreamt big about what we wanted our spaces and buildings to do in the future. We had a vision to deepen our connection with our local community, fulfilling our vison to Impact Communities for Jesus.
We launched a Property Fund to which many parishioners made pledges and have been giving generously since then. In addition to this, we had proceeds from the sale of St Philips in Karori West, which have always been intended for a building to connect to the community.
Our property team translated what the parish asked for into a design brief for architects, engineers and quantity surveyors. They came back to us with costs, design, and plans.
We've since trimmed down our aspirations to fit our budget.
On 9 June, we held a Special General Meeting, to vote on our Vision and our design plans. The vote was strongly in support of our vision of what and how we will operate in our new building and in favour of continuing in the process of our design plans.
The thinking about how we will deliver our vision has developed as we have considered how we can meet social needs, operate ethically, living out like Jesus calls us to live and operate to generate a profit that can be reinvested in our community.
We are now in our second stage of fundraising and are seeking funds from Parishioners and Grant bodies to complete our build. 
We have a vision to create a facility that connects the church with, and serves the local community more deeply.

We have a long history of supporting and working with families through playgroups, Early Childhood Centre, and SMASH.

We want to improve the quality of peoples lives, well being, relationships and also bring the church into the community in a more meaningful, intentional and sustained way.

We want to provide services that meet a social need, operate ethically, live out kingdom values and importantly, operate to generate a profit that we can then reinvest in our community to meet needs of the last, the lost and the least.

This generosity is central to the project and will be part of its unique attraction to its customers

Our vision is to operate services that include a café, a substantial soft play and a whānau counselling service, all operations that are complementary with each other and have synergy with our other ministry areas.

Karori Anglican has more than 20 years experience of running two successful operations, The Early Childhood centre and SMASH.

The Café and soft play provide great avenues to connect to our community. The café will be for everyone to use, supplying fair trade and ethically sourced products

The Soft play area will be for children aged 2-10, a place where parents and caregivers can know their child is happy, safe and occupied, enabling them to spend time in the café and connect with others, (all helped by soundproofed, clear walls ensuring other cafe users are not disturbed by the children at play!).

Counselling on site for whānau and individuals

In addition, the new build will enable staff to be centrally located to the action and allow the Anglican Youth Movement to establish a house in the current offices enabling a whole raft of ministry activities to flow from their work.

This vision has been endorsed by members of our Parish and  Vestry.
Assets
What about the other buildings? 
St Mary's church building remains a major asset. It stays as our primary place of worship and a space that can be transformed to fit our needs eg SMASH.
The Anglican Youth Movement will be housed in the old Parish Offices. This will provide a boost in our mission to Karori Youth. In addition, the café and soft play activities will give us an opportunity to provide youth with vocational training in work such as hospitality and child supervision.
Staff will be housed in the new building. They will be close to the action.
Now that our Vision has been approved work will continue to develop business planning around the services we want to provide in our new building to ensure they can help us deliver our vision.
 We will be proceeding through the gaining resource consent based on our preliminary design.
Once we have resource consent we will be developing detailed design drawings to enable builders to tender on construction. 
We will be seeking Parish approval before entering into a contract with a building company.
We are exploring the best name for our new building, and appropriate branding to reflect everything that Karori Anglican Churches is in the community. 
Look out for updates on Facebook, here on the website, the newsletter and the church foyer.
Tell your friends outside of church about what's proposed. It's for them too – and we need them to make it work!
We expect the total building cost to be $3.8 million.  This is to be met from donations from pledges, funds already in the Property Fund (mainly from the proceeds of the sale of St Philip's), grants from external organisations and loans.
We have currently raised over $1.9 million, which is fantastic, and we believe the $3.8 million target is achievable with the ongoing commitment of our parish and approaches to funders.
If you would like to donate to the project, please click here below.
Your Personal Response
Prayerfully respond as generously as your circumstances will allow, and spread your gifts over the years in the manner that best suits your circumstances. Remember that gifts are tax deductible.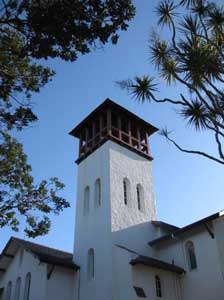 St Mary's Bell Tower
The strengthening of St Mary's Tower has been completed. The Tower reopened on 14 August 2016.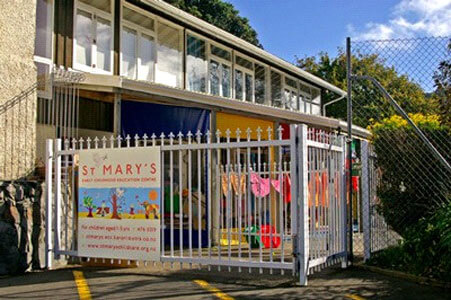 St Mary's Early Childhood Education Centre
The strengthening of ECEC was completed in late 2014/early 2015, and the centre has been being used since the beginning of 2015.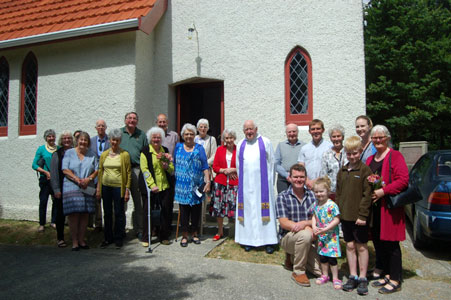 St Matthias (Strengthening Works)
The strengthening and repair work is complete and the church reopened in December 2017.  Thanks to the parishioners, Wellington City Council, Built Heritage Incentive Fund, Lion Foundation and Meridian Energy for their friendly support.
Looking forward
The Future Work Programme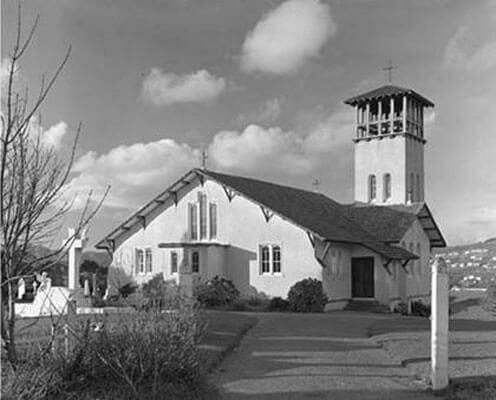 Construction of our New Build is planned for 2020 and the programme timetable after that is driven by two factors: the need to complete seismic strengthening by 2028 and the availability of funds.
 Following completion of the New Build which addresses the earthquake risk issues of the Parish Hall there will be two further projects to complete:, St Mary's Church Strengthening and the former Vicarage strengthening.
 The order in which these are carried out has not been decided and the timetable shown assumes that St Mary's is addressed first, and then the former Vicarage, which will become the AYM house
 We will need to raise around $1.8 million to strengthen St Mary's, although some of this funding should be accessible from Heritage funding.  It is likely that this work will take three years to achieve.
 The following timetable outlines a high level plan, completing St Mary's by 2028 and the former Vicarage by 2030.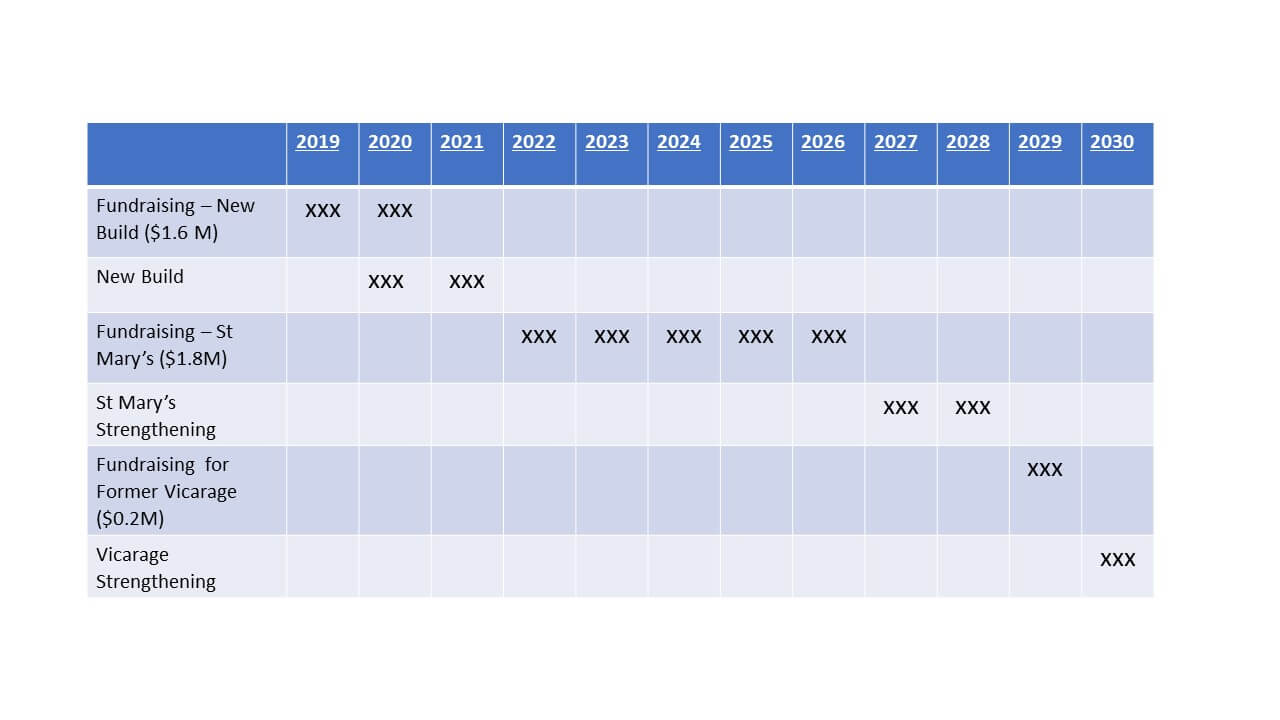 St Mary's Church – Strengthening
Completion: 2028
This work covers the strengthening of St Mary's Church and bell-tower.

In 2016 we strengthened the Tower to the minimum level required and have retained the operating restrictions that have been in place since 2013.  Significant further strengthening work is required

Recent additions of cupboards in the Gathering Area and stage lighting and a new sound system in the body of the Church have been made to support the current use of St Mary's in the knowledge that it will continue to be used as a multi-purpose building for the foreseeable future.

The early strengthening schemes and estimated costs from 2013 have not been updated, other than to add construction cost inflation of 60% from 2013 (when the initial cost estimate of $1.1 million was prepared) to 2028 (the expected completion of the strengthening work), giving an estimated cost in 2028 of $1.8 million.

There are a number of specific pledges for this work which are being kept separate. A further fundraising campaign of about $1.75 million will be required both from within and outside the parish.  A completion date of 2028 allows for a three-year St Mary's fundraising campaign.
Parish Office (Former Vicarage) – Strengthening
Completion: 2030
This work is expected to cost $200,000 and design / planning / fundraising work for this will follow in due course. 
Finance
Property Fundraising
The estimated costs (in dollars of the year of construction) for the future property programme work is:
Our New Build, including demolishing the Parish Hall and completing the remaining building – $3.8 million in 2020
St Mary's Church – $1.8 million in 2028
Parish Office – $0.2 million in 2030
We envisage that this will require fundraising campaigns with Parishioners pledging towards them, as well as applications to funds and trusts.
Our New Build (2015 – 2020)
St Mary's Church (2025 to 2028+)
Your Personal Response
Prayerfully respond as generously as your circumstances will allow, and spread your gifts over the years in the manner that best suits your circumstances. Remember that gifts are tax deductible.
Thank you for your generous financial and operational support of the Property Programme – your support makes it possible.