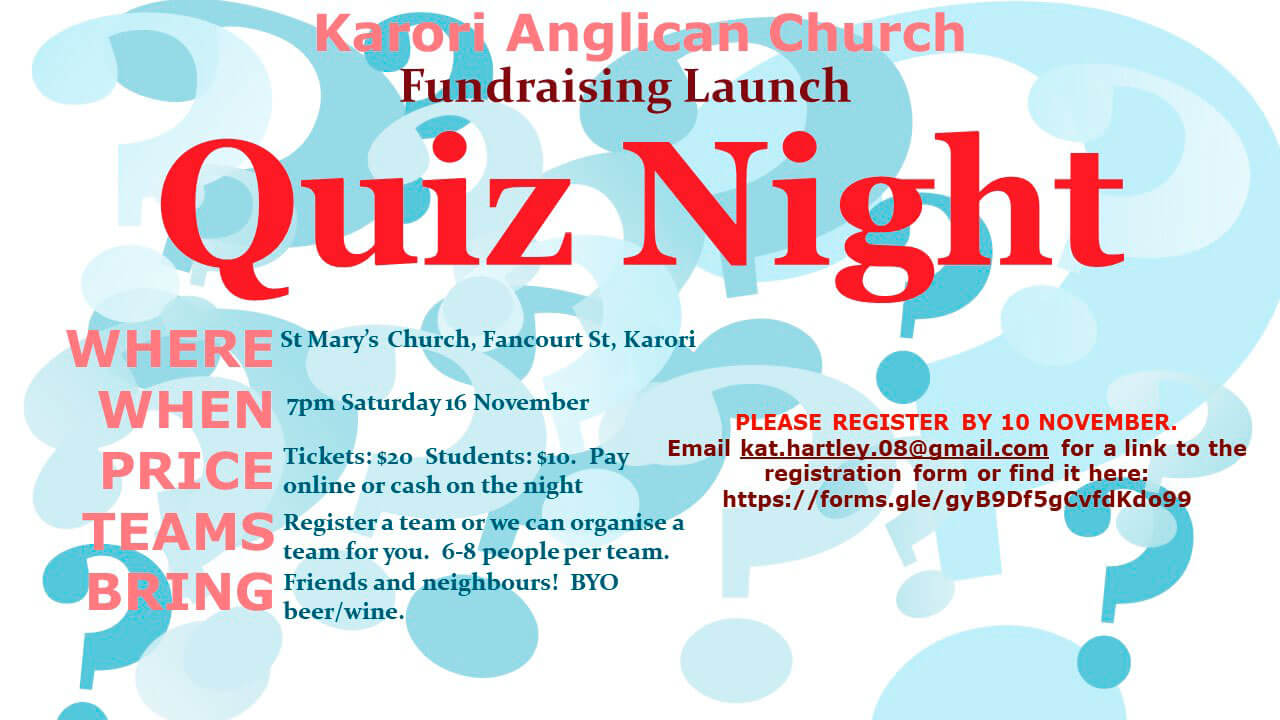 Quiz Night—This week, don't miss out!
The Fundraising Team are very excited to be launching a new fundraising campaign on 16 November at our Quiz Night. If you haven't signed up online yet, we have clipboards with team sign-up sheet at church. Be ready with your team's names, email addresses, and home addresses. The cut-off for registration has been extended, all welcome.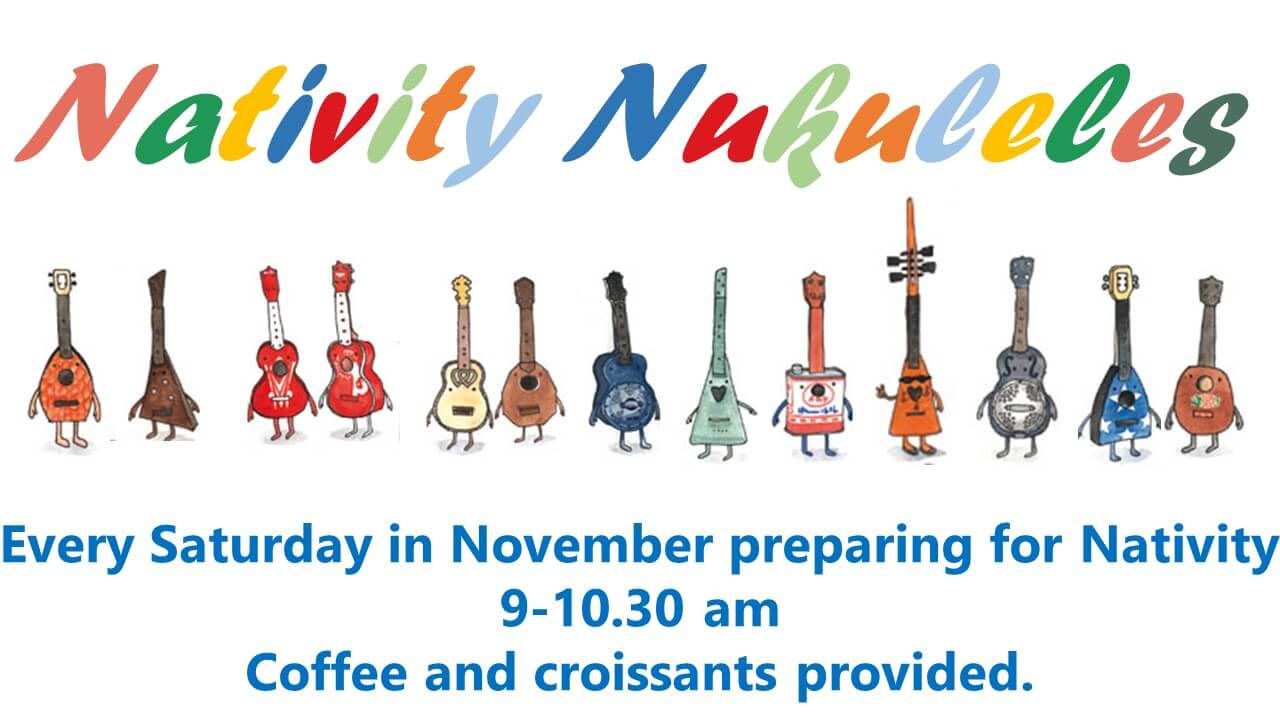 Nativity Nukuleles
November Nativity Ukes every Saturday morning in November. 9 am for croissants, jam and coffee, uking from 9:30 – 10:30 . Please rsvp to Ian so he knows how many croissants to buy.
A Note from Zoё
I have accepted an offer of employment at the National Library of New Zealand. My last day at Karori Anglican will be Friday 6 December. Thank you for the many opportunities I have had with Karori Anglican. During my time here I have seen and heard many stories of people finding their feet while serving and/or working at Karori Anglican, and I'm honoured to say that the same is true for me. I pray that this legacy will continue in years to come.
Expressions of interest for the position of Ministry Assistant, Administration are welcome. Please see Ian or Kate for more information.
Raffle Items Wanted
Do you have something REALLY COOL that you would like to donate for our Raffle/auction at Fundraising Quiz night on Saturday 16th?  Maybe your company has some service/product they might like to donate?  Maybe you have a signed all black jersey or similar just lurking around at home, maybe you have a holiday house you could gift out for a night or two?!
Karori Foodbank
The foodbank is run by the five churches in Karori and it needs your help. We need volunteers who can work between 10 and 11.30 am on Tuesdays and/or Fridays. The work consists of packing food parcels. No heavy lifting required. Volunteers are rostered over a 12-week period and might be required 2 or 3 times in that period. For information please contact Angela 4766963 or pachyderm@werren.nz.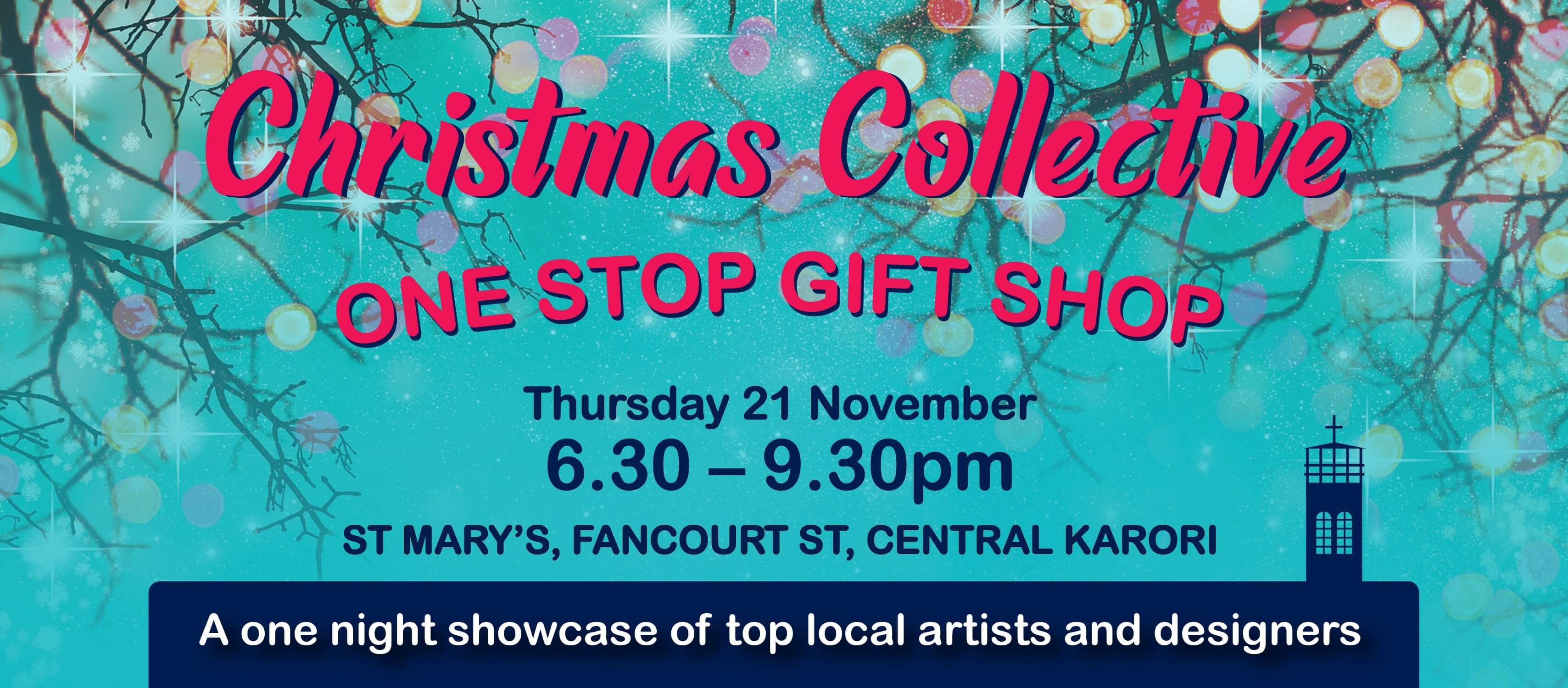 St Marys PlayGarden
We are into the final phase for preparing the play equipment! Heavy rain on Sunday meant we had to delay our bark chip spreading plans. In anyone is free on Tuesday at 6.30 pm people join us to complete this task! Many hands make light work! Bring a spade/wheelbarrow or bucket if you have one.  
We will be having our official opening and celebration on Sunday 8th December following the Nativity Play.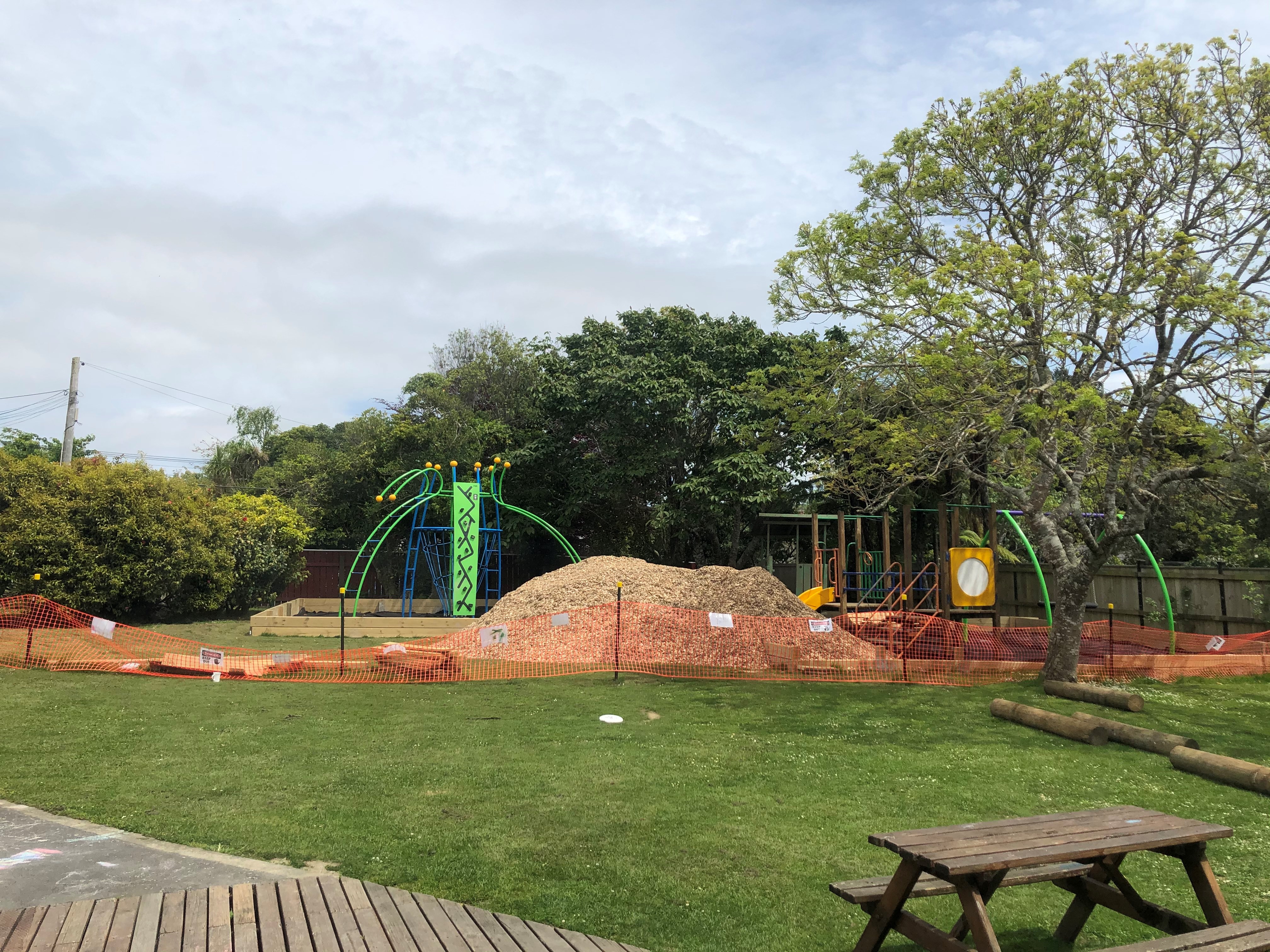 Gathering Against End of Life Choice Bill
You're invited to a gathering at Parliament on Wednesday 13 November from 12 pm against the End of Life Choice (euthanasia and assisted suicide) bill. It will be Parliament's final vote. Please arrange leave and come if at all possible. For more information, go to euthanasiadebate.org.nz
Neighbourhood Support Meeting
You are invited to join with Fancourt Street neighbours to revitalise our Neighbourhood Support Group. Allan Frazer, a resident of Fancourt Street has arranged a meeting for Sunday 17 November at 4.30 pm in the Gathering Area. Discussion will include Karori resilience, emergency preparedness, as well as neighbourhood support. A cup of tea will be available, and you may wish to bring a bottle to share with others. Please RSVP to Allan Frazer  027 4503 861